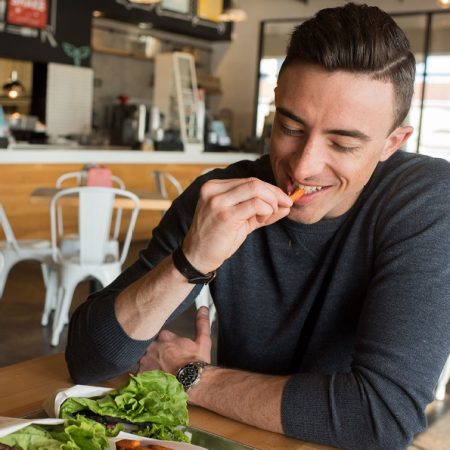 ABOUT
At Orderup, we believe real food shouldn't compromise good food. We believe food should be fun—like your favorite food truck. In fact, we like street food so much that we created an entire menu out of it. Our cooks have fun in the kitchen while you have fun eating. It's a lot of creativity and a little bit messy, but that's what makes it real. Real. Good. Food.

Hands down the BEST food I've had in a bit! My burger was delicious, I'd maybe even say the best burger I've ever had. Fries were cooked perfectly . . . may have been the best cookies I've ever had . . . I wish we had one of these restaurants in our town because I'd be there at least once a week!!
Meghan B.

"A burger that's so excellent I can't even begin to say how much I enjoyed their basic cheeseburger."
Michael O.

"The food is very good! They have slushie mimosas which are a fav and their cookies are great."
Kaitlin K.

"The best restaurant in the city if you don't eat gluten. I almost always get a burger here: it's juicy, full of flavor, and they properly toast the Udi's bun. Also a gem to my boyfriend, who can eat gluten but still regards [Orderup] as one of his favorite burgers. The San Antonio Bean Burger is his true addiction in this life. I really really love Order Up and can't recommend it enough. Get a cookie when you go."
Lillian A.

"This place never disappoints us… never. Always fresh. So darn delicious."
Tuesday C.
Customer

"Needed a breakfast eatery near our destination and this came up on the map. Glad it did! The cinnamon rolls are made in-house and the juice was fresh squeezed. … The service quick and cashier patient with first-timer questions. Will be back."
S. L. Niemann
Customer

"Love this restaurant. I just wish I lived closer. There used to be one on the northwest side but they closed it down. If you go TRY THE COOKIES. They're honestly the best chocolate chip cookies I've ever had!"
Jonathan B.
Customer

"By far some of the best fast food I have ever had in my entire life. More impressive than the flavors, however, is the sheer variety of options being offered, all very high quality from their breakfast pizza to their chicken club."
The Cristovar
Customer
WHAT A GREAT SMILE YOU HAVE!
We'd love to have that infectious grin behind our counter.
Fill out this application and let's find out if we're a good fit for you.
Design and development by Atkinson/Commer. Copyright © Orderup. All Rights Reserved.